Manatee Kayak
Our bestselling solo kayak is comfortable, easy to maneuver, and fun for the whole family.
Play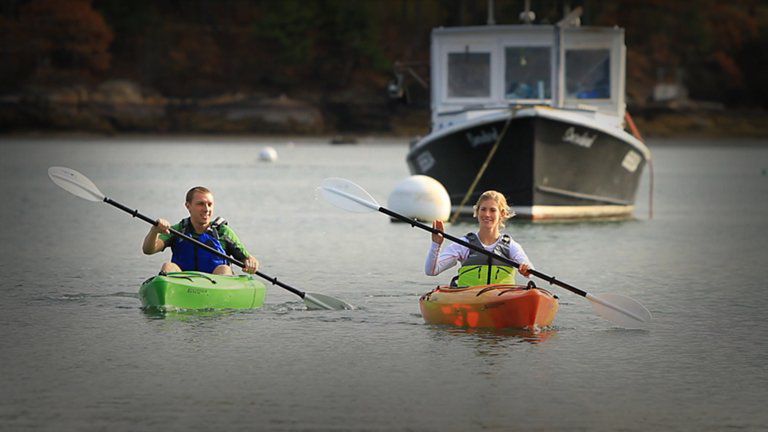 Manatee Kayak
Our fun, easy-to-use Manatee kayak is a great choice for paddling your local waters with your family or your friends.
The first thing you'll notice about the Manatee is how easy it is to carry. At only 40 pounds, it's not too heavy to lift off your roof rack and carry down to the water. Once you're inside, you'll notice how comfortable it is. The seat is well padded, and the back-rested foot pegs are fully adjustable for a custom fit. The rim of the cockpit is padded as well, so you can sit upright and rest your knees comfortably while you paddle.
There's plenty of on-board storage, like this rear hatch accommodates a dry bag of for spare clothes, a handy paddle park, and front and rear deck bungees for your water bottle and anything you need to keep close by. The Manatee is compact in size, but its advanced hull design makes it efficient to paddle and holds a straight course with little effort.
Our Manatee Kayak packages are a great value. They include a lightweight paddle and a nylon cockpit cover to keep debris and bugs out while your boat is in storage.
With any kayak, we recommend wearing a personal floatation device, or PFD. For the Manatee, I like this comfort mesh-back PFD – it's well ventilated to keep you nice and cool; it provides full freedom of movement; and it fits well with the Manatee's high back seat.
Our Manatee Kayak is a great choice for exploring a lake, pond or sheltered cove in calm conditions or a light wind. It's comfortable, easy to maneuver, and fun for the whole family.