Calypso Women's Kayak
A satisfied customer tells us our women's touring kayak is easy to carry and fun to paddle.
Play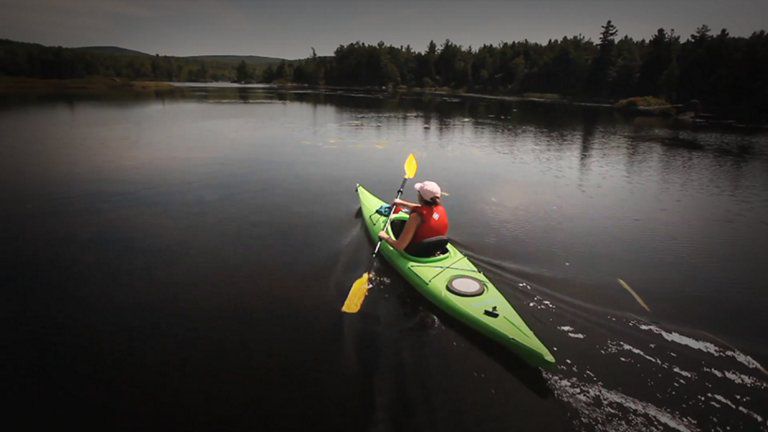 Calypso Women's Kayak
Hi. My name is Betty. I'm an L.L.Bean customer. I recently bought a Women's Calypso Kayak, and I paddle a lot in New Hampshire.
One of the things I like about kayaking, especially here in New Hampshire and on different lakes, is that I can get to areas I can't get to any other way. So I can paddle out there on my own and check things out that I wouldn't be able to get to on foot, and that's part of what's great about being out on the water.
The hard thing about a lot of women-specific products is I feel like sometimes it's just a male version scaled down in a smaller size and they call it women-specific. That's one of the reasons I really like the Calypso, because I actually feel like it is a women-specific product, and I feel the difference when I'm kayaking it because I've been in boats that are just unisex kayaks and it just doesn't feel as easy to paddle –sometimes it feels a little bulky. This feels like every detail was thought about.
Basically, the thing I love the most about the Calypso is that I can pick it up on my own, I can portage it, I can bring it to a spot to go kayaking on my own, and I can even get it on my car by myself. It's really portable – I just love it.
One of the things I was worried about when I was investing in a kayak was how often I'd actually be out using it, and part of that was, like, if it wasn?t going to be portable, if it wasn't something I could take by myself, I really don't think I would really be using it that much. So I was really excited to just find that I was taking it out often, I was getting out a couple times a week. Any lake that I drive by I'm, like, "Hmm, I wonder if there's a spot that I can get my kayak in there."