Discovery Ski Set
Our bestselling cross-country ski packages come with everything you need to get out and enjoy the snow this winter.
Play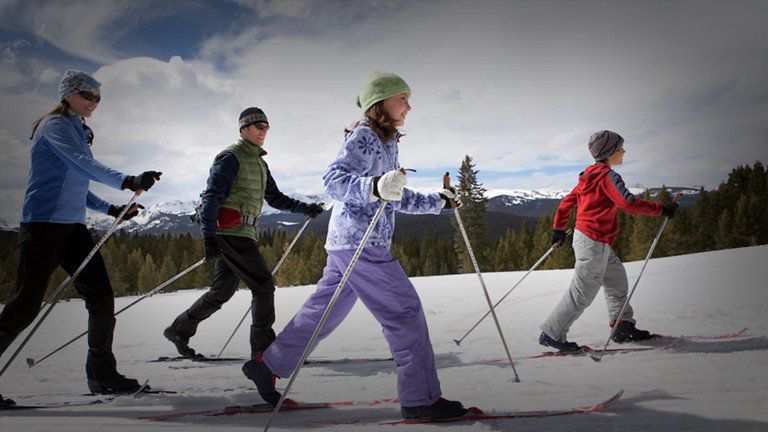 Discovery Ski Set
Hi. My name is Nathan Mack. I work in product development at L.L.Bean, and I'm here at the Bike, Boat & Ski Store in Freeport, Maine, to talk to you about the Discovery Ski Set.
We designed this set for people interested in getting involved in cross-country skiing as a recreational sport. It's designed to work both in and out of track, at a golf course, or in your own backyard. We outfit this ski with a PosiTrack no wax base, ensuring low maintenance and great performance. The ski has a narrow side cut and a wider platform than you typically find in cross-country recreational skis, which offers great stability and excellent maneuverability as well.
The Discovery Set comes with either an X2 or an X5 boot. Both of these boots are a high-quality boot unusual to find in a set at this price point. The X2 boot in this package has a rigid sole, warm insulation, and a stable ankle support that offers great maneuverability while you ski. The X5 boot offers a zip-up boot cover, which keeps snow and ice out, so that you're ensured to stay warm and dry through the day, and a hook-and-loop closure, which provides additional ankle support for increased maneuverability both in and out of track. The Women's X5 boot is designed specifically to fit a woman's foot.
The pole offered in this package is made out of 7000-series aluminum, which is both lightweight and strong. It also has a comfortable synthetic cork grip and adjustable straps. We mount the bindings for free, and of course it's backed by our legendary guarantee. This set is an excellent value, and a great choice for the whole family looking to enjoy the outdoors for years to come.