We didn't invent the tent - but we have made a better one, by considering and testing every detail in the field. The King Pine features easy setup, two spacious rooms and our leak-proof guarantee.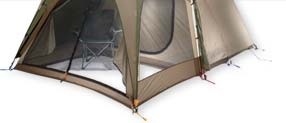 Shop Camping Gear by Category
Pack Right for Every Outing
View and print complete list
Family Camping Checklist
Family camping is an enjoyable way to spend time outside. Use this list to make sure you have all the gear you need to ensure a fun, safe and comfortable experience.
Checklists for Every Adventure
Whether you're going out for a few hours or a few days, be prepared with these handy packing lists
Watch Our Camping Gear in Action
Questions? Call Our Camping Team
Our special customer service team is dedicated to camping, and ready to answer your questions about tents and more, every day from 8 a.m. to 10 p.m. ET. 800-226-7552.
Camping Gear/Free Shipping at L.L.Bean.
Whether you're camping overnight or taking the family on a weekend campout, we've got rugged gear you can depend on for all your camping needs, plus free shipping at L.L.Bean. From tents and sleeping bags to lamps and car camping accessories, our camping gear is lab tested and field tested by experts for season after season of use. Our easy-to-set-up tents are designed to keep the elements and insects out with ample room inside. And for decades, our sleeping bags have remained a staple for keeping customers warm under the stars – priced for a great value. If you need a light, choose from our huge selection of gas, solar or crank powered lamps and lanterns, flashlights and headlamps with LED lights to brighten up your campground. You'll also find camp cooking items and a wide variety of camp furniture and accessories to make your campsite more comfortable and enjoyable. Plus, to ensure the safety of you and your family, we offer emergency and first aid items, including medical, car and survival kits, emergency radios, lighting, blankets and more. With the most trusted camp gear, our legendary 100% satisfaction guarantee and free shipping, L.L.Bean makes it easy for you and your family to enjoy the outdoors.