Backpacks as Tough as the Guarantee They Carry
Shop by Style
Adventure-Ready School Packs

North Ridge Backpack, $59.95
Ages 13 and up.

Mountainside Backpack, $69.95
Ages 15 and up.

Quad Backpack, $79.95
Ages 15 and up.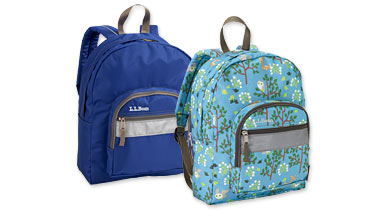 Original Book Pack
Perfect for preschoolers and kindergarteners.
Holds lunch, toys and an extra layer without overwhelming small children
Front pockets feature key clip and organizer panel
Made from rugged nylon packcloth with padded back panel and shoulder straps
Shop by color
Click on a swatch to see our complete selection of packs, lunch boxes and messenger bags by color.
Shop accessories and more styles


Video: See Our Packs Up Close

Kids' Backpacks from L.L.Bean: Tougher Than School®
For decades, parents have relied on L.L.Bean for rugged backpacks, messenger bags and lunch boxes that are built to last. Our broad selection makes it simple to find the right pack, whether your child is starting preschool or grad school. You'll find packs that have stood the test of time, like our Original Book Pack that's been a favorite since 1982, as well as new packs that go well beyond the classroom with technical hiking features and all the comfort you need on the trail. Use our shop-by-age feature to find your school backpack quickly, or shop by color or style. When you've selected your pack, you can buy with confidence, because we test every pack and messenger bag in the lab and in real-life situations to meet our high standards. Plus, like everything else we sell, our backpacks and lunch boxes come with our 100% satisfaction guarantee.