LEARN NEW SKILLS
or perfect existing ones with FREE clinics for all skill levels, taught by L.L.Bean's knowledgeable experts

PADDLE FOR JUST $20
with our Discovery Series Course – we'll provide all the gear and instruction you need, no experience required

TEST OUT BOATS
on the water for FREE on Friday and compare kayaks, canoes and stand-up paddleboards firsthand; call your local store for details

BRING THE WHOLE FAMILY
for fun, FREE activities including hands-on games and creative crafts for kids of all ages
Take a FREE shuttle on Saturday and Sunday to the L.L.Bean Paddling Center on beautiful Casco Bay - just 10 minutes away. Stay for an hour, or stay the whole day!
SATURDAY AND SUNDAY
Compete in a fun, challenging stand-up paddleboard race. Space is limited; call 1-888-552-3261 to register. Saturday only - meet world champion snowboarder Seth Wescott.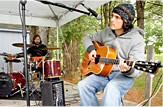 SATURDAY AND SUNDAY
Listen to free live music by the water and purchase a delicious meal or snack from our food vendors - all proceeds will benefit a local non-profit organization.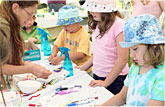 SATURDAY AND SUNDAY
Enjoy free family games with our partners from Healthy Hometowns and find crafts and hands-on activities for kids, including a marine touch tank on Saturday.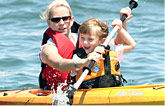 SATURDAY AND SUNDAY
Test out boats for FREE on the water and compare our kayaks, canoes and stand-up paddleboards side by side. Our experts can help you find the right one.
Explore the huge selection of kayaks, canoes, stand-up paddleboards and paddling accessories at our Bike, Boat & Ski Store all weekend long.

L.L.Bean PaddleSports Weekend
It's finally time to hit the water! Join us at your local L.L.Bean store June 7-9 for FREE paddling clinics and on-water boat demos, including kayaks, canoes and stand-up paddleboards (SUPs). Plus, you'll find free kids' activities, $20 L.L.Bean Outdoor Discovery Schools courses and more. In Freeport, join us on Maine's beautiful Casco Bay for live music and delicious food; all purchases will benefit local non-profits. A great weekend for paddlers of all ages!