ACTIVITIES & SERVICES

Our products are guaranteed to give 100% satisfaction in every way. Return anything purchased from us at any time if it proves otherwise. We do not want you to have anything from L.L.Bean that is not completely satisfactory.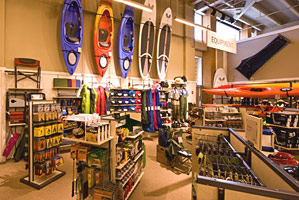 For your convenience, these shopping services and activities are available at this location.
Weekly Clinics
Monogramming
EVENTS CALENDAR
Emergency Preparedness May 2

Be ready the next time a storm approaches. Learn about the supplies you should have on hand and the steps you can take to handle unforeseen situations, wherever you are.

Birding Essentials May 7

Learn to use binoculars, read field guides, understand migrations and much more in our introduction to this fun and captivating outdoor activity.

Camping Essentials May 9

Come to our Camping Essentials Clinic and learn what you need, why you need it, and how to use it. There's no charge, just good information and fun. Call the store to register.

Introduction to Hiking and Backpacking May 14

Thinking about heading out on the trail, but not sure how to begin? Our experts will help you understand the gear you need and provide helpful tips for choosing your route and traveling in comfort.

How to Pack for a Kayak-Camping Trip May 16

If you're planning an upcoming adventure, this clinic can save you a lot of head-scratching. Our experts will show you how to fit all that gear in that little boat, efficiently and effectively for a great trip.

Success Strategies for Camping & Hiking With Kids May 21

Come and learn time-tested strategies for instilling a love of the outdoors in your children. You'll leave this clinic knowing how to make hiking and camping fun for the whole family.

Basic Map & Compass Navigation May 23

Even with modern technology, the best foundation for navigation know-how is still having map and compass skills. Come learn how to stay on course with our experts.

Stand-Up Paddleboarding Discovery Course — Just $20 May 25 - September 25

Discover how easy it is to balance on top of the water. Our expert instructors will teach you the fundamentals of stand-up paddling and essential safety skills, in a relaxed environment.

Learn more
Kayaking Discovery Course — Just $20 May 25 - October 13

A fun and easy way to try out the sport of kayaking! Our expert instructors will teach you basic paddling techniques and safety skills and lead you on a relaxed tour. All equipment is provided. Call your local store for advanced registration.

Learn more
Personal Electronics in the Outdoors May 28

These days, it's not unusual to have your phone along when you head out on the trail. We'll show you how to make the most of having your phone along, give you tips for protecting it and share some fun, useful outdoors apps.

Fly Casting May 30

Here's your chance to learn a sport that you may end up loving for a lifetime. Our friendly, knowledgeable instructors will teach you the four-part cast, share helpful tips and give you plenty of practice time.