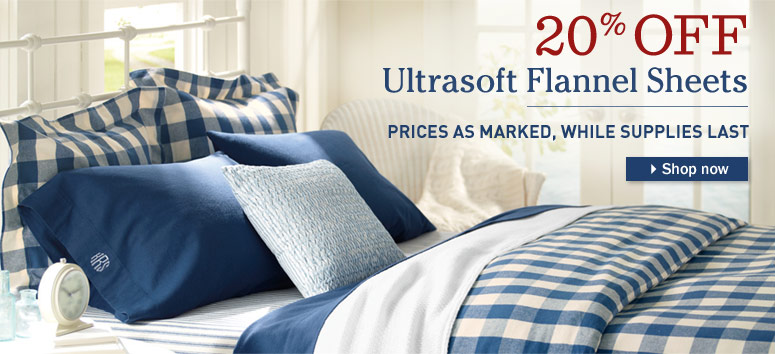 Beautiful bedrooms begin with great color and the unbeatable value of premium bedding that's made to last.
Down Comforters
Choose from three styles for reliable warmth in any climate
WARM
Box Stitch
A lightweight, economical choice for mild to moderate climates.

From $169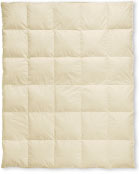 WARMER
Baffle-Box
Year-round midweight warmth for moderate to cool climates.

From $199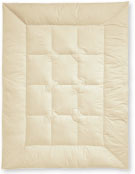 WARMEST
Permabaffle-box
Our warmest, loftiest choice for cool to cold climates.

From $239
Learn more
about the details that set each style apart.
See how
to care for your down comforters and pillows.
Videos
Learn more about our premium bedding
Carefully crafted to last for years - guaranteed.
Caring for Your Down Comforter
It's easy to keep you down comforters and pillows in great shape for years to come.
To get the most out of your comforter, it's a good idea to shake it out frequently to restore its loft. Airing it outside periodically is a great way to keep your comforter smelling fresh and clean.
Small stains can be spot cleaned with a mild detergent. If you need to wash your comforter, we recommend using a large, front-loading commercial washer. Tumble dry on low heat, along with a clean tennis ball or two to help keep the down from clumping. If weather permits, we recommend hanging your comforter outdoors to dry completely. The sun has natural anti-microbial properties to help keep the down fresh and clean.
Washing down too frequently can shorten its life - you won't need to wash your comforter more than twice a year - so we recommend using a comforter cover to protect against stains and spills. That way you can simply remove and launder the cover along with the rest of your bedding.
Storing your Down Comforter
Your comforter will compress to a fairly small size, making it very easy to transport. Keeping it compressed over an extended period, however, will shorten its life. For best results, store your down comforter loosely in its breathable storage bag in a dry, well-ventilated area.
Heirloom Quality and Lightweight Warmth—Guaranteed
Our premium 600-fill-power white goose down lofts higher and traps more air than lower fill-power down, so it provides better insulation with the same amount of fill.
Because it's breathable, our down helps keep you warm in winter and cool in summer. It's also certified hypoallergenic.
All our down comforters are made in the USA, and they're a great value. They're generously oversized, so you get better coverage without paying more. The covers are 100% downproof, 280-thread-count cotton. And unlike some of our competitors' comforters, ours are machine washable and easy to care for.
Down Comforter Styles
We offer three different constructions, each in two different insulation levels. Your choice will depend on your climate and whether you tend to sleep "cool" or "warm."
Box-Stitch comforters are a great choice for four-season comfort in mild to moderate climates. Sewn-through squares keep the down from shifting and eliminate the need to shake your comforter out.

Baffle Box-Stitch comforters offer year-round warmth in moderate to cool climates. A thin layer of fabric baffles connecting the top and bottom allows for greater volume, resulting in maximum loft in each chamber, uniform thickness and no cold spots.

Permabaffle Box comforters will keep you warm, even on cold winter nights. The fill is concentrated in the center of the comforter, where it's needed most; the surrounding frame has lighter insulation. A patented interior system prevents shifting and evenly distributes the down for better heat retention.
Bedding and Bedroom Accessories from L.L.Bean. Trust L.L.Bean for high-quality and affordable bedding for your home. From sheets and comforters to pillows and blankets, we stock everything you need to create a comfortable and cozy bedroom. You'll find our premium Portuguese Flannel sheets, as well as our crisp percale sheets and luxurious sateen sheets. Our selection of down bedding covers all your year-round needs, with down comforters, pillows, feather beds and mattress pads in a variety of weights. We have bedding options for every season, from colorful quilts or blankets for spring or lightweight to heavyweight down comforters as the seasons change. With a variety of styles, colors and fabrics to choose from, you'll find a quality selection of bedding at an affordable price.