SHOP ANYTIME, DAY OR NIGHT
All stores, except our Outlet, are open 24 hours a day, 365 days a year.
Campus Map
FEATURED EVENT
L.L.Bean Camping Weekend
May 17 - May 19
Get ready for the season with the L.L.Bean Camping Weekend at your local store. Enjoy special in-store events including product demos and free clinics. You'll also get the chance to test gear firsthand, so come on in and stretch out inside a tent, compare sleeping bags or check the comfort of a camp chair. Plus, you'll find plenty of fun, hands-on camping activities and games for kids of all ages.

There's More To Do in Freeport
Over 3 million visitors a year make L.L.Bean Freeport's most famous destination, but there's plenty more to do while you're in town. Grab a lobster roll, discover hundreds of nearby shops and restaurants, or take a short drive out to Wolfe's Neck State Park, where you can hike, picnic or explore our rocky coast.
Helpful Links
Maine Office of Tourism
FreeportUSA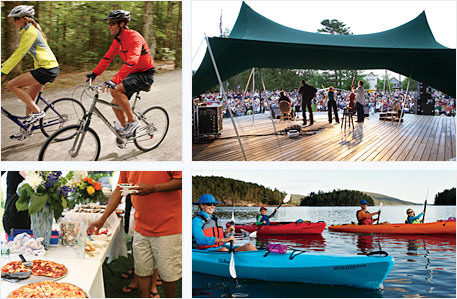 EVENTS CALENDAR
| | | |
| --- | --- | --- |
| | Success Strategies for Camping & Hiking With Kids May 21 7 p.m. | Come and learn time-tested strategies for instilling a love of the outdoors in your children. You'll leave this clinic knowing how to make hiking and camping fun for the whole family. |
| | Basic Map & Compass Navigation May 23 7 p.m. | Even with modern technology, the best foundation for navigation know-how is still having map and compass skills. Come learn how to stay on course with our experts. |
| | Camping Essentials May 9 7 p.m. | Come to our Camping Essentials Clinic and learn what you need, why you need it, and how to use it. There's no charge, just good information and fun. Call the store to register. |
| | Birding Essentials May 7 7 p.m. | Learn to use binoculars, read field guides, understand migrations and much more in our introduction to this fun and captivating outdoor activity. |
| | Scout Night May 1, 8, 15, 22, 29 5 p.m.-8 p.m. | Our staff will customize a "Woods Wisdom" class to meet your Scout groups needs. Topics can include: GPS, Map & Compass, Knot Tying, Backpacking Basics, Backwoods Ethics, Staying Found, and more. One Scout troop per evening. Adult supervision and pre-registration required. Call 1-207-552-7733 for info. |
| | Emergency Preparedness May 2 7 p.m. | Be ready the next time a storm approaches. Learn about the supplies you should have on hand and the steps you can take to handle unforeseen situations, wherever you are. |
| | Basic Bike Maintenance May 9 7 p.m.-8 p.m. | A great way to get ready to ride and do routine maintenance on your bike. We'll show you how to do basic maintenance yourself on a daily, weekly, monthly and annual basis. Work directly with our mechanics and increase your safety and confidence. Limited to 3, please call store to sign up at 1-207-552-7670. |
| | Catch & Release Demonstration May 4 1 p.m. | Join L.L.Bean fishing reps at our Flagship Store's indoor trout pond to learn proper catch & release techniques for trout. |
| | Catch & Release Demonstration May 5 1 p.m. | Join L.L.Bean fishing reps at our Flagship Store's indoor trout pond to learn proper catch & release techniques for trout. |
| | Catch & Release Demonstration May 11 1 p.m. | Join L.L.Bean fishing reps at our Flagship Store's indoor trout pond to learn proper catch & release techniques for trout. |
| | Catch & Release Demonstration May 12 1 p.m. | Join L.L.Bean fishing reps at our Flagship Store's indoor trout pond to learn proper catch & release techniques for trout. |
| | Catch & Release Demonstration May 18 1 p.m. | Join L.L.Bean fishing reps at our Flagship Store's indoor trout pond to learn proper catch & release techniques for trout. |
| | Catch & Release Demonstration May 19 1 p.m. | Join L.L.Bean fishing reps at our Flagship Store's indoor trout pond to learn proper catch & release techniques for trout. |
| | Catch & Release Demonstration May 25 1 p.m. | Join L.L.Bean fishing reps at our Flagship Store's indoor trout pond to learn proper catch & release techniques for trout. |
| | Catch & Release Demonstration May 26 1 p.m. | Join L.L.Bean fishing reps at our Flagship Store's indoor trout pond to learn proper catch & release techniques for trout. |
| | Peanut Taste Testing May 11 11 a.m.-2 p.m. | Home Store - Feredies will offer samples of several varieties of their incredible Virginia peanuts, known for their large size, crunchy texture, delicious flavor and high nutritional value. |
| | Basic Bike Road Repairs May 2 7 p.m.-8 p.m. | This clinic will help you learn how to do basic repairs while out on the road or trail. Bring your bike and we'll teach you how to fix a flat tire and broken chain. This is a great opportunity to ask our mechanics any questions you might have about basic roadside repair. Class size is limited to 3; please call the store to sign up at 1-207-552-7670. |
| | Basic Bike Road Repairs May 23 7 p.m.-8 p.m. | This clinic will help you learn how to do basic repairs while out on the road or trail. Bring your bike and we'll teach you how to fix a flat tire and broken chain. This is a great opportunity to ask our mechanics any questions you might have about basic roadside repair. Class size is limited to 3; please call the store to sign up at 1-207-552-7670. |
| | L.LBean Hunting & Fishing Hot Stove Chat Series May 3 7 p.m.-8 p.m. | Join our L.L.Bean Hunting Staff along with biologists from the National Wild Turkey Federation to learn about turkey habitat, calling and general hunting tactics. |
| | Road Ride May 4 2 p.m.-4 p.m. | Join us for a 2-hour road ride on some of our local, country roads. Please wear layers and be prepared for the elements. Helmets are a must. This ride is weather dependent. Please call the Bike, Boat & Ski Store to confirm this outing. 1-207-552-7670. |
| | Road Ride May 18 2 p.m.-4 p.m. | Join us for a 2-hour road ride on some of our local, country roads. Please wear layers and be prepared for the elements. Helmets are a must. This ride is weather dependent. Please call the Bike, Boat & Ski Store to confirm this outing. 1-207-552-7670. |
| | Road Ride May 25 2 p.m.-4 p.m. | Join us for a 2-hour road ride on some of our local, country roads. Please wear layers and be prepared for the elements. Helmets are a must. This ride is weather dependent. Please call the Bike, Boat & Ski Store to confirm this outing. 1-207-552-7670. |
| | Stonewall Kitchen Sugar Cookies May 4 11 a.m.-2 p.m. | Join us at the Home Store, where we'll share samples of sugar cookies made from Stonewall Kitchen's simple (and delicious) mix. |
| | Grampa's Garden Product Demonstration May 4 11 a.m.-2 p.m. | The Maine-made, all natural hot and cold therapy packs from Grampa's Garden are wonderful for joint aches, muscle pain or simply relaxing - and they make the perfect gift for Mother's Day. Enjoy this demonstration in our Home Store. |
| | Trail Clean-Up Day at Bradbury Mountain State Park May 4 | L.L.Bean has been a trail steward at Bradbury Mountain State Park for many years. Join us for 2 or 4 hours as we prepare the trails for the busy spring and summer season. Please wear sturdy shoes and bring work gloves. 8-10 a.m. and 10 a.m. - Noon |
| | L.L.Bean Personal Care Products May 5 11 a.m.-2 p.m. | Mad Gab's will be on hand to provide testers and talk about our wonderful L.L.Bean hand, body and lip balms. |
| | Stonewall Double Chocolate Mint Cookies May 5 11 a.m.-2 p.m. | We'll share samples of double chocolate mint cookies made from Stonewall Kitchen's simple, tasty mix. At the L.L.Bean Home Store. |
| | Fly Casting May 30 7 p.m. | Here's your chance to learn a sport that you may end up loving for a lifetime. Our friendly, knowledgeable instructors will teach you the four-part cast, share helpful tips and give you plenty of practice time. |
| | Travel Department: Travel Accessories Demonstration May 5 Noon-2 p.m. | Join us at our Flagship Store for this ongoing demonstration to see some of the fun, new travel gadgets available and to learn time-tested tips that will make your next adventure easier. |
| | Turkey Talk May 7 7 p.m.-8 p.m. | Join L.L.Bean Hunting Staff and explore decoy and calling tactics. |
| | Basic Boating Safety Clinic May 7 7 p.m.-8 p.m. | Join us at the Bike, Boat & Ski Store as we learn how to explore our local waterways safely by ensuring that our boats are properly outfitted. We will go over basic safety principles associated with paddling your kayak or canoe. |
| | Dry Fly Clinic May 9 3 p.m.-4 p.m. | Join L.L.Bean Fishing Reps and learn effective dry fly techniques on Maine's waterways. |
| | L.L.Bean Hunting & Fishing Outing May 11 2 p.m.-3 p.m. | Join the L.L.Bean Hunting Staff at our own Fogg Farm and learn how to properly set up and use game trail cameras. |
| | Women's Road Ride May 11 2 p.m.-4 p.m. | Happy Mother's Day. Join us for a 2-hour, all-Women's road ride on some of our local country roads. Please wear layers and be prepared for the elements. Helmets are a must. This ride is weather dependent. Please call the Bike, Boat & Ski Store to confirm this outing. 1-207-552-7670. |
| | Nut Tasting May 11 11 a.m.-2 p.m. | Nuts are a wholesome, healthy and all-natural snack. Feridies will be here to offer samples of L.L.Bean fresh, flavorful, extra-large Virginia peanuts and California almonds. |
| | Stonewall Kitchen Jams & Jellies Tasting May 11-May 12 11 a.m.-2 p.m. | Stonewall Kitchen's legendary jams and jellies are full of sweet, juicy berries that make their products irresistible. Stop by our Home Store for a sample! |
| | Guide to Women's Active Apparel May 11 Noon-2 p.m. | L.L.Bean has a wide variety of activewear loaded with features that can take you from town to trail. Join us at our Flagship Store as we show you the designs and fabrics we rely on for all-weather comfort and style. |
| | Special Guest Speaker: Donn Fendler May 11 11 a.m.-2 p.m. | In 1939 twelve year-old Donn Fendler was hiking to the Summit of Mount Katahdin when he became separated from his family. He spent nine lonely days and nights in that rugged wilderness but eventually he found his way out. The newest version of his tale is told in the award-winning graphic novel Lost Trail. Today Donn will tell his inspiring story and then sign books, along with author Lynn Plourde and illustrator Ben Bishop. 11:00-11:30 - Reading; Noon-2 - Book Signing. |
| | Guide to Women's Active Footwear May 12 Noon-2 p.m. | Whether you're walking, running, and hiking trails, or just hitting the beach or pool, L.L.Bean carries footwear that will keep your feet comfortable all year long. We'll explain the technical features of our shoes, boots and sandals to help you find just the right fit for your favorite activities. |
| | Family Hike Series: Cousins River Trail May 12 10 a.m. | This .6 mile trail starts at the Casco Bay YMCA in South Freeport and passes over hills and boardwalks to the marshy shore of the Cousins River. This will be an easy, kid-friendly hike with special nature exploration games and activities. |
| | Special Guests: Leave No Trace Traveling Trainers May 13 | L.L.Bean is thrilled to have the Northeast Regional Team of Kate Bullock and Tracy Howard return to our store to present an interactive, educational discussion on the principles of the Leave No Trace® Outdoor Ethics. These sessions will be geared toward Scouts, Outing Clubs and anyone dedicated to enjoying the outdoors responsibly. 4:00 p.m. and 6:30 p.m. |
| | Firearm Cleaning Demonstration May 14 7 p.m.-8 p.m. | Join one of our Pro Shop Gunsmiths as they demonstrate the proper way to clean rifles and shotguns. |
| | How to Pack for a Kayak Camping Trip May 14 7 p.m.-8 p.m. | Join us at the Bike, Boat & Ski Store and we will help you prepare and pack for an overnight Kayak trip. |
| | Introduction to Hiking and Backpacking May 14 7 p.m. | Thinking about heading out on the trail, but not sure how to begin? Our experts will help you understand the gear you need and provide helpful tips for choosing your route and traveling in comfort. |
| | Exploring Bait Casting May 16 3 p.m.-4 p.m. | Join L.L.Bean Fishing Reps as we explore the exciting world of bait casters, magnetic controls and line and rod selection. |
| | Riding with Your Go Pro May 16 7 p.m.-8 p.m. | Join us at the Bike, Boat & Ski Store to talk about how to get started with your Go Pro. We will also discuss different ways to mount your camera. |
| | How to Pack for a Kayak-Camping Trip May 16 7 p.m. | If you're planning an upcoming adventure, this clinic can save you a lot of head-scratching. Our experts will show you how to fit all that gear in that little boat, efficiently and effectively for a great trip. |
| | Popcorn Taste Test May 18-May 19 11 a.m.-2 p.m. | We are going to demonstrate how easy it is to make your own stovetop or fireside popcorn using the Whirley Pop popcorn popper. We'll be featuring Amish Country's gourmet popcorn. Enjoy - at our Home Store. |
| | Hiking Footwear Clinic May 18 Noon-2 p.m. | Keeping your feet comfortable is key to enjoying the outdoors. There are more footwear choices than ever and the right shoe for you depends on many factors. Join our footwear experts at the Flagship Store as they help you sort through all the features and accessories that can make a big difference. |
| | Apparel for All Activities May 19 Noon-2 p.m. | Life is better outside. Today we'll show you the wide variety of apparel options available to keep you comfortable in all conditions so you don't have to miss a moment of fun in the outdoors. |
| | Late Season Turkey Tactics May 21 7 p.m.-8 p.m. | Join our L.L.Bean Hunting Staff and learn late season tactics to harvest those late season birds. |
| | Great Places to Paddle May 21 7 p.m.-8 p.m. | Please join us at the Bike, Boat & Ski Store to discuss some of the wonderful local places to paddle. |
| | Early Season Striped Bass Fishing May 23 3 p.m.-4 p.m. | Join L.L.Bean Fishing Reps for a discussion on Early Season Striped Bass Fishing. |
| | L.L.Bean Hunting & Fishing Outing May 25 11 a.m.-Noon | Join our L.L.Bean Fishing staff at the Presumpscot River, Rt. 35 in Windham, as our expert staff demonstrates how to "Match the Hatch". |
| | Stonewall Kitchen Grill Sauce Taste Testing May 25-May 27 11 a.m.-2 p.m. | Memorial Day Weekend is the unofficial start to the grilling season, and at our Home Store, we're offering a variety of Stonewall Kitchen's delicious grilling sauces, marinades and mustards for you to taste test. Warning: It's going to be hard to choose just one favorite! |
| | Discovery Patio: Geocaching Demonstration May 25 Noon-2 p.m. | Geocaching is a family-friendly outdoor treasure hunt where you use a GPS receiver to help you locate your "treasure." Stop by our table on the patio by the Bean Boot - we'll give you brief instructions on how to use a GPS and send you off on a short geocaching adventure right here on our campus. |
| | Luggage Clinic May 26 Noon-2 p.m. | Planning a trip? Can't decide what size or style of luggage you want? Our travel department is "packed" with duffles, briefcases, rucksacks, pullmans, backpacks and accessories in many sizes, colors and fabrics. Our travel experts will help you sort out your questions and find the luggage that meets your needs. |
| | General Bow Maintenance Clinic May 28 7 p.m.-8 p.m. | Join our L.L.Bean Archery Staff and learn some basic tips to help keep your bow in tip-top shape. |
| | Stand-Up Paddleboard Essentials May 28 7 p.m.-8 p.m. | Let's talk SUP. We will cover everything from the different types of boards to basic paddle strokes and fun places to take your board. Bike, Boat & Ski Store. |
| | Personal Electronics in the Outdoors May 28 7 p.m. | These days, it's not unusual to have your phone along when you head out on the trail. We'll show you how to make the most of having your phone along, give you tips for protecting it and share some fun, useful outdoors apps. |
| | Mountain Bike Ride May 29 5:30 p.m.-7:30 p.m. | Meet at Bradbury State Park and ride the trails with us. Please call the Bike, Boat & Ski Store prior to the ride 1-207-552-7670. At times the Park delays opening if the trails are too wet. |
| | Angling for Large Mouth Bass May 30 3 p.m.-4 p.m. | Join L.L.Bean Fishing Reps and explore the exciting world of top water angling for Large Mouth Bass. |
| | How to Select the Perfect Road Bike May 30 7 p.m.-8 p.m. | Do you feel overwhelmed when you walk into a bike shop? We will start from the very basics and tailor this hour to suit your needs. Bring your questions to the Bike, Boat & Ski Store and we will help get you going down the right road. Limit 3. Call 1-207-552-7670 to sign up. |